What's good
T-POST® #178
Everyone loves a good celebrity-feud. This was certainly the case when Nicki Minaj accidently made "What's good, Miley?" the catchphrase of 2015 and fueled a storm wave of meme's, tees and pins. But when it comes to getting into unnecessary beefs there can be only one true king – and that's Kanye West.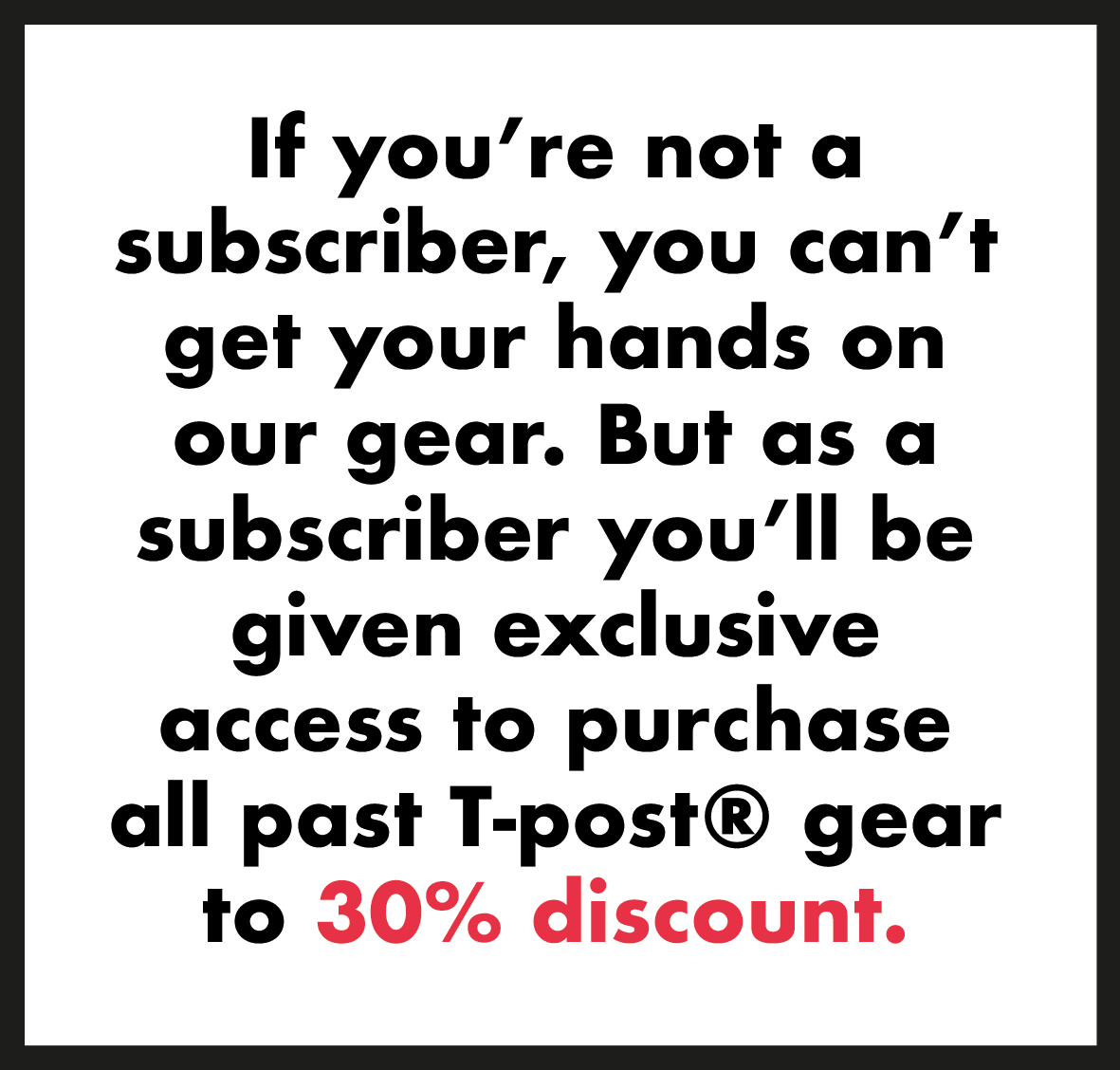 Some things have diametrically different meaning depending on who says it – and how it's said. I'll give you a couple of examples as to illustrate the importance of contextuality. Suppose you're exiting your favorite coffee spot clutching a four dollar-cappuccino and just as the door is about to close an acquaintance – patiently waiting in the que – spots you and holler out: "hey, what's good?". Just a friendly greeting, right? Agreed. Now let's say you're Miley Cyrus and you're hosting the 2015 VMA:s and Nicki Minaj is accepting the award for Best Hip-Hop Video for "Anaconda", and after instructing everybody to be "getting they own money" and thanking all of her beautiful fans, she suddenly turns to you, hissing: "Now… back to this bitch who had a lot to say about me the other day in the press, Miley what's good?"
Now… back to this bitch who had a lot to say about me the other day in the press, Miley what's good?
That's a whole different ballgame, isn't it? It's all about context.
The Minaj vs Miley-beef quickly resulted in an array of memes and flooded Etsy with pins, tees and phone cases with the phrase, turning "What's Good, Miley" into an instant pop cultural classic. The toxic comment was preceded by a series of vague insults from Minaj directed at Miley Cirus du to the latter photoshopping herself into the 'Anaconda' artwork. But what really put the former Disney star in
harm's way was her comments on Minaj's public fury of not getting nominated for Video of the Year, Taylor Swift instead winning for the since long forgotten "Bad Blood". While Minaj pointed out it seemed "if your video celebrates women with very slim bodies, you will get nominated for vid of the year", Cyrus took it upon her to lecture the rapper calling her jealous and "a sore loser".
As a true connoisseur of celebrity-feuds I've found the Queen-of-conflict Nicki Minaj to be a real goldmine of bad atmosphere. In 2017 the Brooklyn-spawn badgirl got into a physical altercation with fellow-rapper Cardi B at the Harper's Bazaar New York Fashion Week Event. Conflict had been brewing for a year with nasty tweets and subtweets flying between the two, and when Cardi B escalated to throwing expensive footwear at Minaj, security staff got involved and after a scuffle
Cardi B left with a huge bump on her forehead. At that point everybody felt things had gotten out of hand, and the two called cease fire within a month. Minaj have been in other spectacular feuds including – but not limited to – legendary rapper Lil Kim, pop-diva Mariah Carey, self-appointed "Queen of Rap" Remy Ma and emo-rapper Travis Scott. But she is in no way the only celebrity sporting a confrontational nature.
In the past 15 years, few if any can match the fragile ego and wounded soul of rap-superstar Kanye West. In fact, the beefs have been so continuous West took it upon himself to repost a list them in a series of Instagram-posts that includes an impressive variety of artists, corporations and species (!?) such as Taylor Swift, South Park, Nike, Wiz Khalifa, Jay-Z, Kid Cudi, Billie Eilish, black people in general, Pete Davidson, Drake, Ray J, Justin Timberlake, Jimmy Kimmel, Harriet Tubman, Travis Scott, and J. Cole. Ye later made sure to add Apple, Spotify, Vivendi, Universal, Lucien Grange, Tik Tok, Black History Month, Obama, the whole cast of SNL, Hillary Clinton, the Devil himself, Corey Gamble, Bezos, Charlamagne and Disney Liberals and of course Skete and "any and all corny shit in general" to the already comprehensive list.
The conflict with South Park made him a reoccurring character on the show, with them poking fun at the artist for not being able to take a joke (and Kanya taking offence to that). The rapper admitted to overreacting and later posted about "having to work on his ego, but this would not be the last time he got into a beef with an animated character, as Peppa Pig made some sassy remarks on Twitter about Kanye's new album. Pitchfork rated "Peppa's Adventures: The Album" 6.5 out of 10, and later gave "DONDA" a 6-rating. "Peppa didn't need to host listening-parties in Mercedes-Benz Stadium to get that .5, the British cartoon character tweeted and secured a foreverhome on Kanye's shit-list. Everyone knows Kanye can hold a grudge – and being an animated kids show-character won't give you a pass. So, what's good, Peppa?