All About T-post®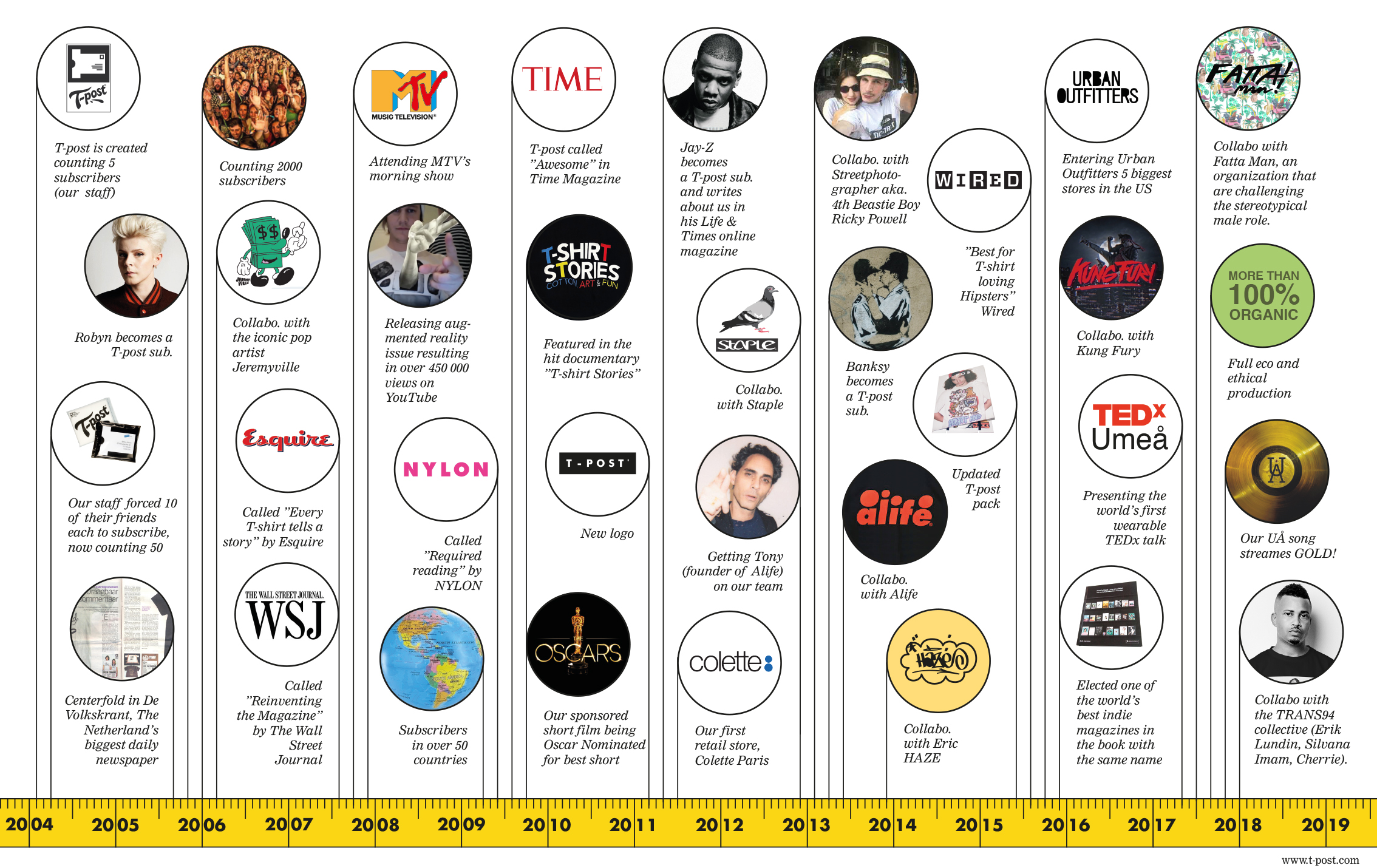 T-POST® - IT'S A STORY
T-post® is the world's first wearable magazine, or a story driven clothing brand, whichever you prefer. Ether way, if you're not a subscriber, you can't get your hands on our gear.
MONTHLY T-POST® SHIRT
All T-post® shirts are made in a limited edition exclusively to all current subscribers. A T-post® shirt will always include a story printed on the inside of the shirt, and the shirt itself inspired and designed on that topic together with whatever else we can come up with that goes with the story.
THE SUBSCRIBER SHOP
As a subscriber you'll also be given exclusive access to our Subscriber Shop where you can purchase all our past gear to a 30% discount. If you're not yet a subscriber, but want to be: SIGN UP HERE
THE STORY
A T-post® story can be an in depth interview with someone we think is interesting (like Ricky Powell or
Eric HAZE), or a story about how we never really get our hands dirty anymore, or how the only way to become truly cool is by hanging out in nature, where nobody can see you. In all our stories we tend to openly reflect on what's happening around us in a time when everything is moving so fast that we hardly ever take the time to. In short, a slice of our world as we see it.
LIMITED, LIMITED EDITION
To secure the exclusivity of T-post®, while doing high profile collaborations, we'll never allow more than 3 000 active T-post® subscribers at the same time. If all slots are full in your area, you'll be able to enter our waiting list and will be notified when someone abandons their spot and your number is up.
COLLABORATIONS
Over the years we have had the pleasure of working with some of the hottest artists, brands and designers around. Lately we've done collaborations with
brands like Alife and Staple as well as organisations like TEDx and RMH (Respect My Hustle) and we hope to continue to evolve with even more interesting projects and collaborations.
UMEÅ, SWEDEN
Hailing from the small town of Umeå, Sweden (by the arctic circle) where the law of Jante is strong and the pace is slow. Not only does this give us an interesting mix of humility and time to reflect, it also gives us easy access to the true source of cool and innovation - Mother nature.
THE BEGINNING
T-post® was founded by Peter Lundgren back in 2004. The idea of T-post® came after a heated discussion about whether or not the classic magazine could be given a new life if combined with something completely different. We started out by giving our first garments to 5 subscribers (our staff). From there, the word began to spread and today we're sending our T-shirts to subscribers in over 90 countries.
Today T-post® is a well respected brand in the game, collaborating with some of the greatest brands in the world and getting reviews like; "Reinventing the magazine" by The Wall Street Journal, "Awesome" by TIME Magazine and "One Of The World's Best Independent Magazines" by the book with the same name.
THE T-POST® STORY
Peter Lundgren on HYPEBEAST podcast: Business of HYPE