Too Soon?
T-POST® #138
They say it's better to burn out than to fade away, the question is if this applies to fashion brands as well? The 1990's explosive hiphop and streetwear-scene had its share of both. And as the 90's are making its big comeback, so are some of its most beloved brands. In this issue, T-post celebrates a long lost love that's back in business…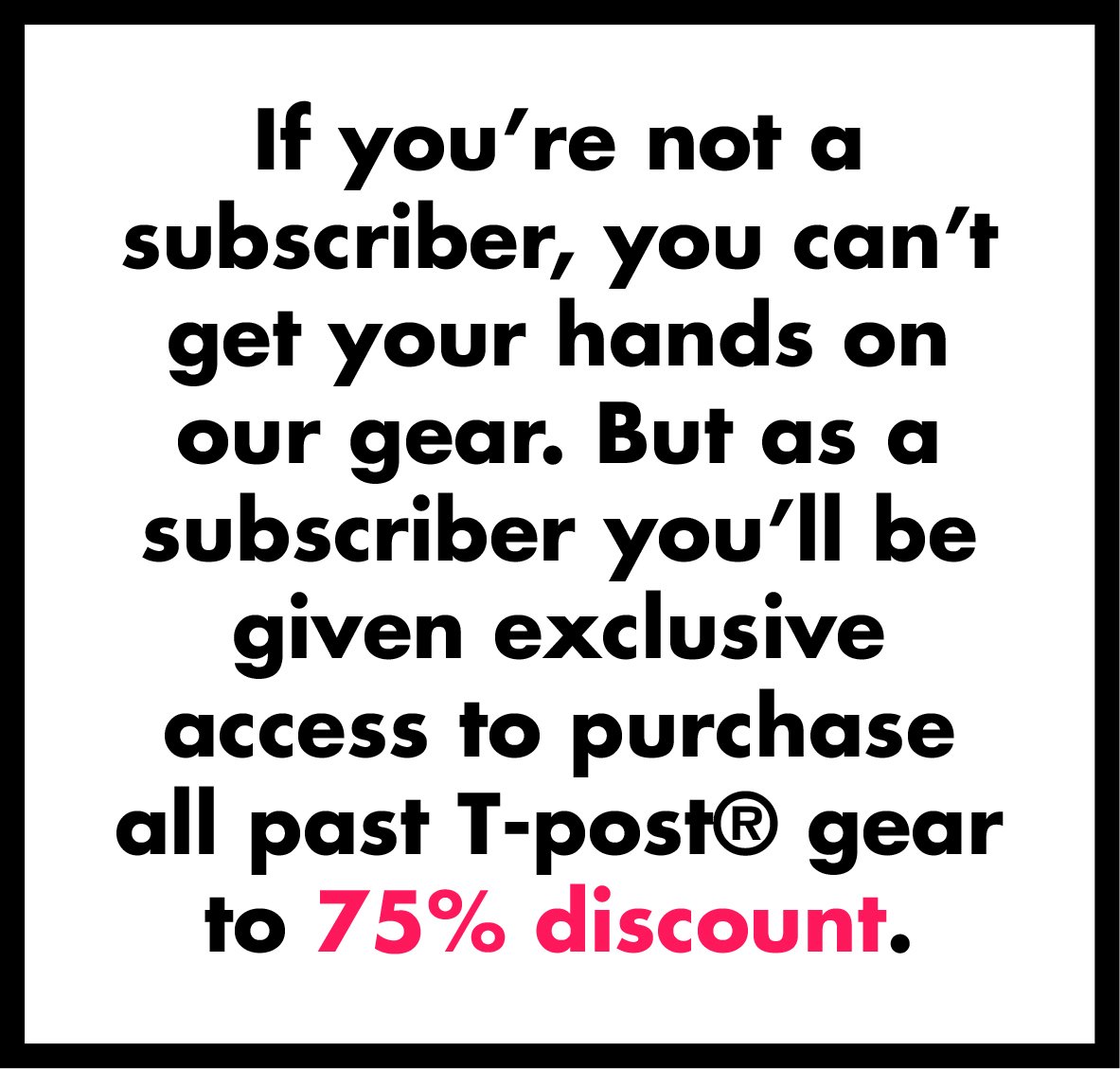 "Now this is a story all about how, my life got flipped-turned upside down. And I'd like to take a minute, just sit right there – I'll tell you how I became the prince of a town called Bel-Air." These words, albeit not necessarily a celebrated part of the great American literary legacy, is firmly planted in my memory. Shit, you could probably shake me awake at 3AM and I'd instantly be able to recite the full lyrics by heart. The show Fresh Prince of Bel-Air is the very epiphany of 1990's pop-culture, launching not only the catchy theme song into living rooms all over the world, but simultaneously catapulting rapper/actor Will Smith into stardom. The then 22-year-old charmed his way through 6 seasons of a pretty corny sit-com, and besides supplying a generation of young guys with cheesy pick up lines ("girl, yo' feet must be tired cause you've been runnin through my mind all day!"), Smith helped a small urban fashion brand break through in a big way –Los Angeles-based Cross Colours.
"As the 90's are making its big comeback, so are some of its most beloved brands"
After a few years in various fashion enterprises, young LA-designer Carl Jones launched his own brand Cross Colours in 1989. The slogan: "Clothing without prejudice", was printed in every item, and encapsulated the brand philosophy targeting mainly African-American youth. Jones was outspoken against gang-culture and racial discrimination, using his design to spread the word. Once Cross Colours hit the small screen with Will Smith, success was instant. The South Central-based brand was soon picked up by contemporary pop-icons such as Kriss Kross, Arsenio Hall and the characters on "A Different World", who sported Cross Colours-tees with positive messages like "Stop D Violence" and
"Educate 2 Elevate" and the brands characteristic red, green and yellow graphics.
Cross Colours however, was far from the only brand to strike gold during the 1990's street wear-bonanza. At its peak in 1998, New York-based clothing and hip hop apparel-company FUBU grossed a baffling $350 million dollars in worldwide sales, its bold logo stitched across the back pocket on hundreds of thousands of baggy jeans. Funded in 1992 by friends Daymond John, J. Alexander Martin, Keith Perrin and Carlton Brown, the group started out with a line of hats made in john's house in Hollis, Queens, New York. Soon the street wear label was shipping off sports wear, belts, eyewear and even suits, making millions. By 2003 however, sales were dropping and FUBU had mainly left the US market, focusing on sales overseas. Today FUBU exists, but is a far cry from its 90's glory.
Another dramatic story of rise and fall
is the tale of Triple 5 Soul. Although one of the most influential streetwear brands of its time, today it is as if it never existed. The saga begins, as with so many successful (and unsuccessful) urban brands, with one passionate individual working hard, not so much for the prospect of profit as for the love of urban culture. At 19, designer Camilla Ehlke was hand producing and manufacturing a streetwear line out of the old storefront on the Lower East Side of Manhattan, which also served as her home. From the launch in 1989 the brand quickly grew a loyal following, with customers from as far away as Japan dropping in and stocking up on the hyped up apparel of Triple 5 Soul (originally 555 Soul). By 1997, the first flagship store opened up its doors on Ludlow Street.  "It was always just a downtown streetwear brand," Ehlke says in a 2014 interview with lifestyle site highsnobriety.com. "I wasn't trying to be anything but myself and cater to my friends who were all emcees and DJ's."
But with growing success came increasing demand. Struggling to keep up with orders, Ehlke turned to Troy Morehouse – who had previously worked with Russell Simmons' brand Phat Farm – for help. Let's just say things escalated quickly from there. By 2001, Ehlke left the self-made brand and within a few years Triple 5 Soul had gone through a number of owners only to wither away and die. "He [Troy) pimped it out," she says in the 2014 highsnobriety-article. "He licensed the brand out to so many people and did so many bad deals with the wrong people just because he was greedy that I think the brand is just kinda caught up. The brand doesn't exist any more." A sad end to an otherwise inspiring story.
So what about Cross Colours? Did it meet the same dark fate as Triple 5 Soul? Well, not really. In 2014 Cross Colours made a fresh start as a multistyle street fashion label, launching a line of tees, jackets, hoodies and hats, still with the original mission – to make clothes without prejudice – deeply incorporated.
This issue of T-post is a celebration of that mission, and homage to the 90's style streetwear that's making a comeback. Welcome back, we've missed you.