Today's weather
T-POST® #179
Extreme heat waves have turned some of the most popular tourist regions in France, Spain, Italy, and Portugal into blazing inferno's ravaged by wildfires and drought. Is this the point where northern Sweden goes from cold, weird and inhospitable to 'The New Riviera'?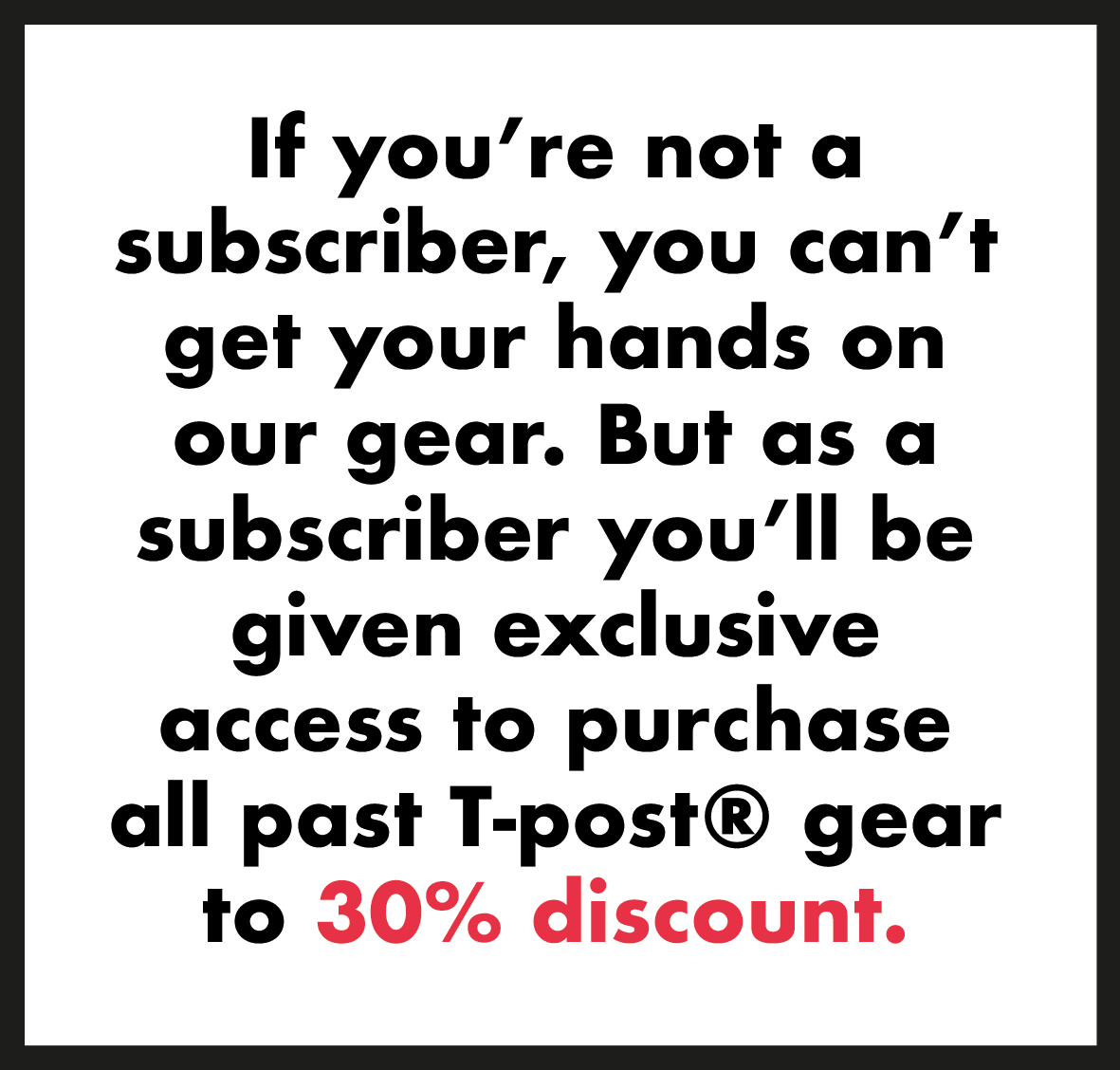 It's a well-known fact – if you ever find yourself in a casual conversation with a Swede, the go-to-subject is always the weather. Notoriously inadequate at the art of small talk, Swedes find comfort in discussing anything meteorological while steering clear of the issue of climate change as this may lead the interaction into a real discussion. Weather is the perfect conversation-piece for the conflict-shy Swede, as it leaves very little room for opinions and subjective perspectives, is generally fact-based, is updated every day and offers a chance to complain. There are many different theories as to why Swedes are so weather-obsessed, but many believe the long winters and short summers of the Nordics makes the precious month of July – when most Swede's have their summer holiday – especially crucial. A rainy holiday basically equals 11 more months of utter darkness until the next doze of vitamin D, thus the constant obsession with weather peaks around midsummer.
In the summer of 2022 however, harmless chit-chat about weather took a
In the summer of 2022 however, harmless chit-chat about weather took a nasty turn into conspiracytheory-territory
nasty turn into conspiracy-theory-territory as conservative pundits expressed indignation at the way mainstream media "misused" the color red to enhance weather maps and give the impression of dangerously high temperatures all around Europe.
They supported this claim by posting side-by-side screenshots of weather maps from the 1980's to current maps, the earlier examples in green and the latter in bright red and yellow. Meteorologists pointing to the fact that the red ones were temperature-indicators while the green ones represented general weather did little to defuse the situation. Conservative
politicians, right-wing influencers and columnists continued to criticize weather-services for pushing the leftist-agenda on global warming, and maintained the temperatures were perfectly normal for this time of the year. "It's supposed to be hot – it's summertime".
At the same time officials reported 2 500 recorded wildfires since the start of May, with tens of thousands of firefighters simultaneously battling flames quickly spreading through Greece, Portugal, Turkey, Spain, Italy, France, Albania, and The United Kingdom. Wildfires were flaring up at a rate four times the seasonal average and by the end of July 515,475 hectares – an area twice the size of Luxenburg – had burned down in Europe. The UN:s specialized agency World Meteorologic Organization (WMO) warns of frequent heat waves for decades to come, calling this 'The new normal'. "The negative trend in climate will continue at least until the 2060's, independent of our success in climate mitigation", warned Petteri Taalas, Secretary-General of the WMO at a press conference to launch the latest extreme weather findings, in Geneva.
For the first time on record temperatures in the UK passed 40°C. At London's Luton Airport the runways were closed due to a heat-induced "surface-defect", trains were delayed or cancelled because of overheated rails and the British Met Office issued Red Extreme Heat Warnings across parts of England and advised the population to "drink plenty of fluid and avoid access alcohol" which, if Brits are anything like Swedes, is unlikely to be followed during summer holidays.
At this point the heat is starting to change travelling in Europe. As wildfires are blazing the tourist regions of France, Italy, Greece, Spain, and Portugal the travelling industry are describing signals of clients adjusting their plans by swapping destinations or delaying their trips. With future heat waves predicted to be longer, more frequent, and more intense, the normal summer holiday in Spain might just be a little too hot to handle. So, where will everybody go? According to travel agent Dolev Azaria, eyes are turning north. "The goal is to move a client from any heat-trapped city to a waterfront vicinity," Ms. Azaria said in an interview with The New York Times. "So, places like Copenhagen and Amsterdam have come up, places that maybe our clients wouldn't have originally chosen to go to."
There is this old saying: "Swedish summer is the best day of the year". This might have been true in the past, but by now the murderous heat waves of southern Europe is making Sweden pretty warm and cozy during the summer months – while still relatively safe from roaring wildfires and melting runways. At this point we're still complaining about shitty weather – that's just in our DNA – but climate changes may actually be turning the northern Swedish coastal area into the next Mallorca. The only problem in this scenario – other than huge parts of the world becoming unlivable and eventually turning millions into desperate climate-refugees – is the Swede's inability to chit-chat about anything other than weather. If we're going to be the next riviera – pushing local wine, renting out overprized beach-chairs and offering guided moose-rides – we have got to up our social game. I mean, If the climate can change, why can't we?