Third Culture Kids
T-POST® #140
Sold out!
What do you do when you've spent the better part of a decade creating one of Scandinavia's most respected urban brands, gathered the best hiphop artists and your label is topping all charts? You tear it down and start over. Babak Azarmi is on a mission, and it's bigger than personal brands or temporary hype – say hello to TRANS94 and the Third Culture Kids.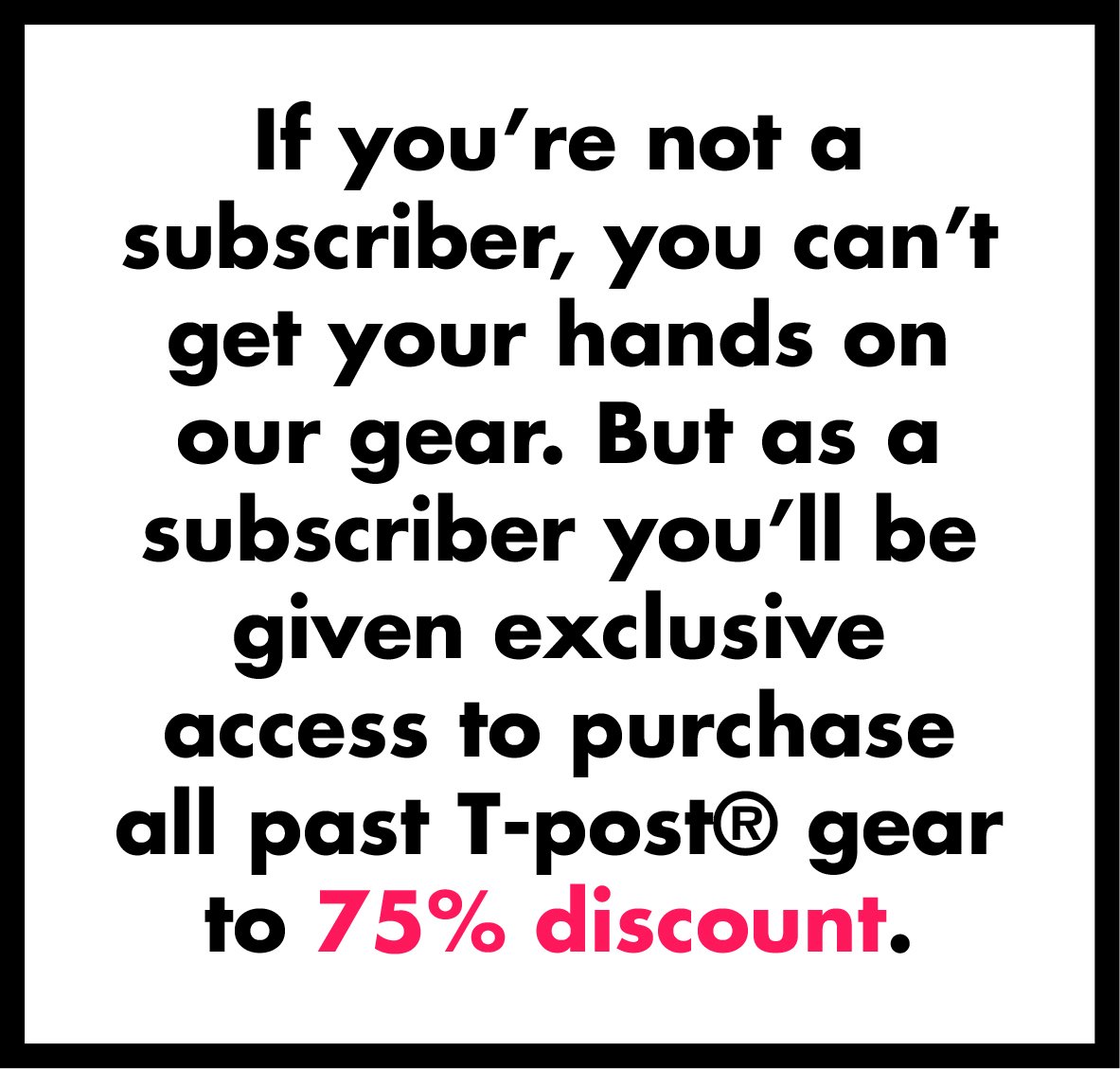 Ibrahim Erik Lundin Banda is virtually invisible in the dense white smoke, bright stage lights occasionally reflecting off of a black nylon hoodie. To say the show is "minimalistic" is almost an overstatement – other than a turntable manned by DJ Mats Norman and a trigger-happy stagehand manning the smoke machine there's really not much to it. It doesn't matter though; all eyes are on Erik Lundin anyway. The Stockholm-born rapper had his big breakthrough in 2015 with the single "Annie Lööf", followed by his debut-EP "Suedi" earning him two Swedish Grammys. Granted, stories of friends getting locked up or killed, of drug dealing and racial discrimination may be commonplace in the hiphop genre – but the 33-year-olds poetic ability is anything but. "The Grammy jury won't even need to meet, Erik Lundin is a shoo-in for Lyricist of the Year", as Jan Gradvall – acclaimed music critic and
We are the 'new norm', and it's forever evolving
Swedish Music Hall of Fame-juror – soon wrote after the release of "Suedi". He was proven right.
Erik Lundin is one of the 45 artists, filmmakers, photographers and young creatives featured in the book "Third Culture Kids", curated under the collective name Ra Hidaya Modig. Babak Azarmi – founder of the (recently departed) cultural collective and record label Respect My Hustle (RMH) and initiator to its incarnation TRANS94 – describes the book as a "manual", a basic guide to understand the Third Culture Kid, and the start of a grass roots movement. Babak first came across the term "Third Culture Kids" a few years ago during one of his usual "staying-up-all-night-and-googling-random-shit-sessions", and it – quite literally –made him jump
out of his chair. "As soon as I saw these words they just resonated with me, like it all came down to that particular moment. It´s a strong and pivotal moment in my life", says Babak in an interview with totallystockholm.com.
The term Third Culture Kids was originally coined in the 1950's by US sociologist Ruth Hill Useem, and referred to children who spend their formative years in places that are not their parents' homeland. But while Ruth Hill Useem's concept mainly allude to sons and daughters of expatriate workers, kids from transnational marriages and/or attending international schools in their home country, Barak's project broadens the connotation: "It includes a whole group of children brought up in a society that from the beginning wasn't theirs. It's a space for you to recognize your own identity and build a culture that you feel empowered by. Being a TCK is exhausting, confusing and challenging. I can only talk from my experiences, and my upbringing was hell until I
found out about TCK last year. Nobody ever told me that I could embrace my position of being trapped between two cultures and create my own one", says Babak. Having founded RMH more than a decade ago, Babak watched it grow into a force of nature, its artists topping the Swedish charts, headlining big festivals and quickly gaining a new audience far outside the traditional hiphop-crowd. In light of this, it came as quite a shock to the industry when Babak – along with the rest of the members – suddenly announced RMH:s dissolution with a tweet in the spring of 2017. It read: "Merci for respecting our hustle these past ten years. Building for the future".
"It's the end of an era, but it's also a beginning of something new", says Babak Azarmi, and continues: "I've always seen RMH as an experiment, and we're at a point when we are ready for the next step. We want to move further away from being seen as a one-dimensional organization/company. RMH kinda locked us in a bubble that we had grown out of. It was all about a dream to have the people, the industry and the artists respect our hustle, and we feel that we made that point up until now."
This is where TRANS94 and the Third Culture Kids come in. For a long time, the heavily segregated suburbs of Stockholm, Malmö and Gothenburg have been portrayed as crime-ridden no-go-zones, lethal environments where even armed police forces are reluctant to stray. And while social exclusion is a very real problem among some of these urban areas, the menacing headlines have a tendency of self-fulfilling prophecy. With TCK, Babak and the rest aims to highlight the advantages of a diversified background, to make young TCK's to appreciate their position and identity, and to create opportunity for more to follow. Or as Babak Azarmi: puts it: "We are the 'new norm', and it's forever evolving."
--------
These six pictures are of "third culture kids", which we have randomly printed and distributed on this months T-shirt.
In order of appearance on the cover: SAP, Erik Lundin, Babak Azarmi, Cherrie, Fatima Jelassi, Paul Edwardss.