Standard Issue
T-POST® #168
How much time do you spend browsing online stores, shopping or trying out new outfits? Some of the world's most successful entrepreneurs have embraced 'uniform dressing' as a way to eliminate unnecessary decisions from their days, and focus on what's important. So is this the way of the future – should everyone opt for a standard issue-outfit, or does personal style and fashionable expression still have a purpose?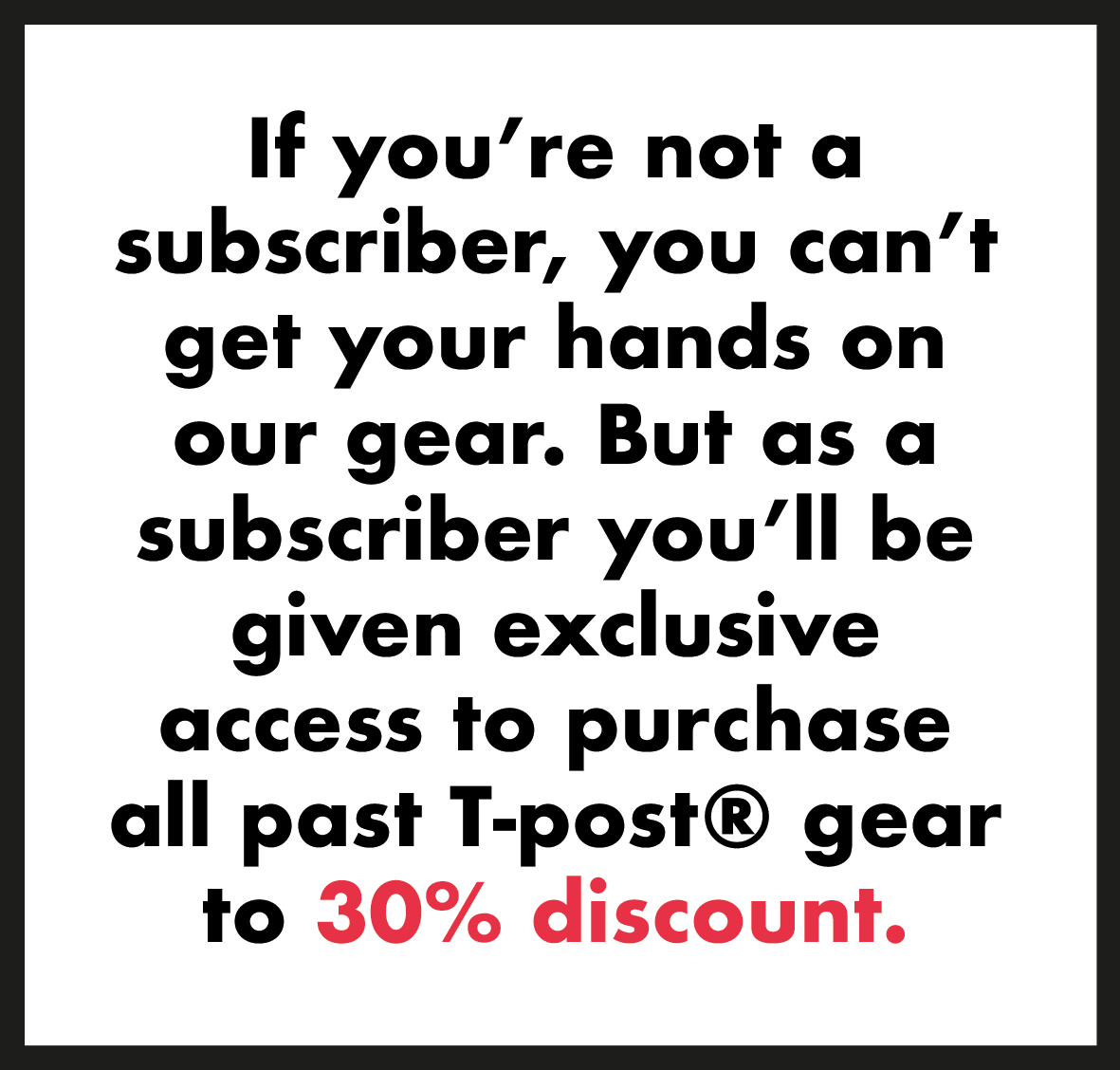 Black mock-turtleneck, washed down Levi's 501®s classic fit jeans and grey New Balance dad-sneakers – ring any bells? The late Apple-wizard Steve Jobs wore this – and only this – from 1998 and up until his death in 2011, making the hadcore ascetic and minimalistic approach to fashion famous. But he is far from the only successful professional choosing a slimline wardrobe in a time of abundance.
The concept of "uniform dressing" has been gaining momentum in the last few years, and basically means picking one or two outfits you feel comfortable in and sticking to them, thus eliminating any lengthy shopping sessions or scratching your head in front of the wardrobe figuring out what outfit to wear. "I really want to clear my life to make it so that I have to make as
Jesus Christ. If only I'd spent all that time learning basic math properly, I'd probably have been able to verify if these numbers are correct.
few decisions as possible," as Facebook founder Mark Zuckerberg said in a 2014 interview, when asked why he always wore jeans and a plain t-shirt or hoodie. Barack Obama had the same idea during his presidency 2009–2017, thankfully stepping up his game a bit from Zuckerberg and opting for grey or blue suits, white shirt and tie: "I'm trying to pare down decisions. I don't want to make decisions about what I'm eating or wearing because I have too many other decisions to make." Top-celebrity stylist Karla Welch spends her busy days designing custom pieces for the likes of Justin Bieber, Zooey Deschanel and Amy Poehler, but is
rarely seen wearing anything other than jeans, a white tee and a blazer. "There's a reason 'uniform dressing' is catching on. When you streamline one aspect of your life, it frees up your brain to focus elsewhere. When you're busy or building a company from the ground up, your mind is needed for other things.", Welch explained at an event at WeWork in 2018.
This got me thinking: How much time have I spent on outfits? I actually did the maths, and the results were kinda shocking. I'm 41 years old, and as a conservative estimate I'd say I spend 5-10 minutes every day just picking out an outfit from my wardrobe. Adding perhaps 10-15 minutes (on average) of daily online-browsing for vintage military shirts and limited edition sneakers, that's 15-25 minutes of outfit-related activity – each day, 365 days a year. Given I didn't have much say on anything in the first four or five years on this earth we'll scratch those out, leaving 36 years of 15-minutes-a-day wardrobe-issues. That's 43 weeks of my life – lost on color-coordinating sneakers and t-shirts. Jesus Christ. If only I'd spent all that time learning
basic math properly, I'd probably have been able to verify if these numbers are correct.
On the other hand – clothes are a form of creative expression. I truly enjoy the process of swiping through Instagram or Pinterest collecting inspiration for tomorrow's outfit, browsing web-shops and Ebay for hidden gems and sorting through my wardrobe, setting up new combinations of old stuff. It's relaxing, almost meditative. And to be fair – it's not like all these ridiculously successful people suddenly made it big after finding 'uniform dressing', they were already geniuses in their own right. I, sadly, am not. But maybe there is a middle ground, a way to simplify your wardrobe choices, lessen your environmental impact and express personal style without falling for every fashion trend swarming Instagram? One small Swedish brand certainly thinks so.
Asket started out in Stockholm in 2015 by August Bard Bringéus och Jakob Dworsky, with the ambition to create the perfect t-shirt. While staying true to the original philosophy of timeless style and sustainable consumption, Asket has expanded their offer from plain t-shirts to include shirts, jeans, jackets, hoodies, sweaters, knitwear, underwear and swimwear for both men and women. Where they stand out is how they've eliminated any form of seasonal collections, focusing on a permanent collection with key pieces that stand the test of time – they call it "The pursuit of less". Most of the items will successfully combine with any other piece, and they never have sales. By the end of 2021, the brand aims to be 100% traceable in every part of production. "As we learned more about the fashion industry, we saw how inherently exploitative it was. That's when our mission shifted to transforming how the entire industry operates. That's where we are today: we want to slow down fashion, establish a balance across the value chain and restore meaningfulness in our wardrobes."
So yeah, spending thousands of precious hours (and dollars) contemplating my wardrobe-choices might be kinda crazy, I really do need to find a healthy approach to fashion. I might not be quite ready to go full-on-Mark Zuckerberg-gray-tee-and-jeans just yet but hey –  this t-shirt is a start.