Naa Mean?
T-POST® #164
To most of us, Youtube is just a way to kill a couple of hours with harmless fun. But falling down the Rabbit Hole of Youtube is a very real thing, and you might very quickly find yourself engulfed in a web of conspiracy theories and hate. So do yourself a favor: try to catch the birds eye view every once in a while.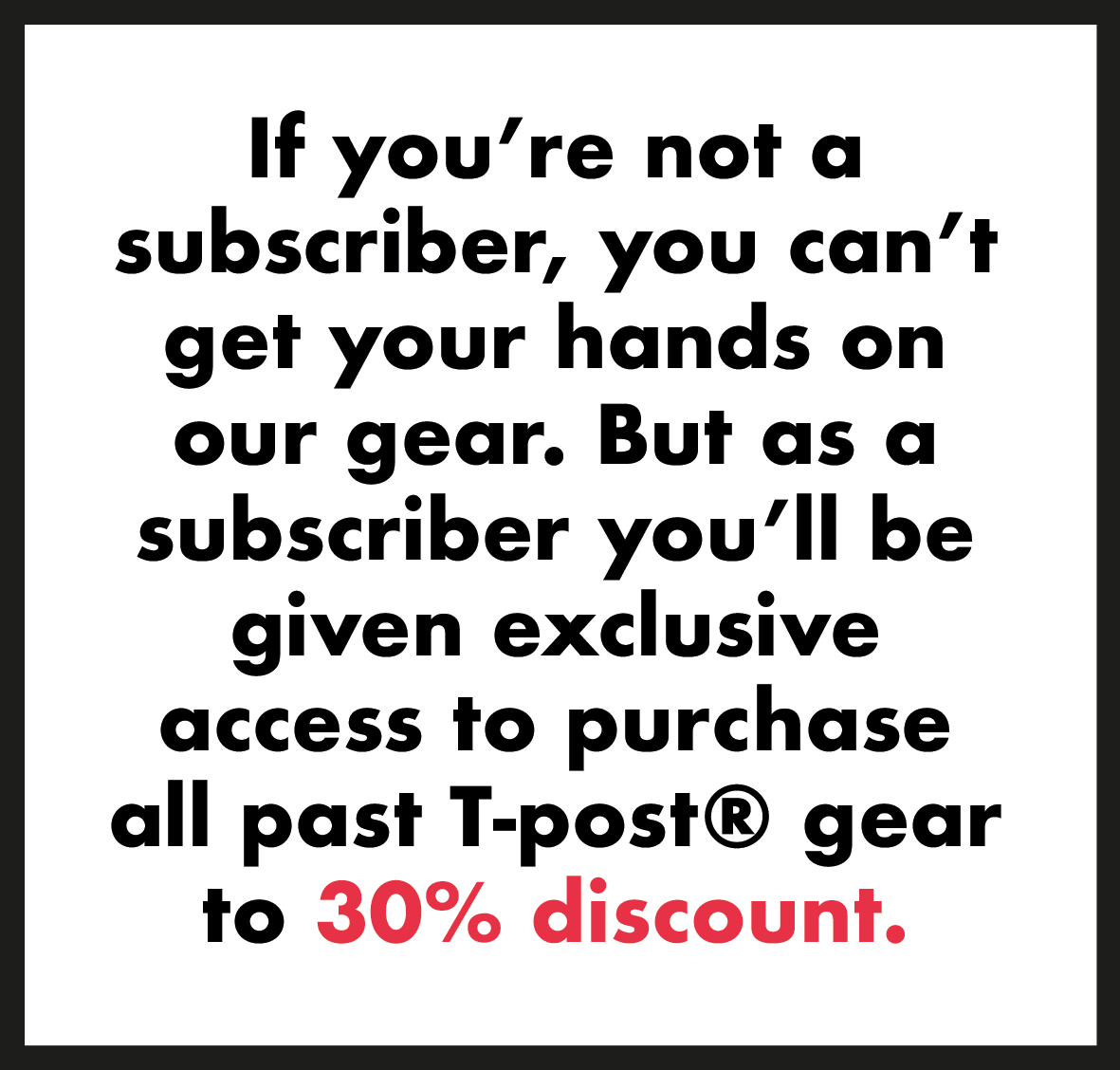 "Daily average: 7h 26 minutes. Your daily average screen time is up 37% from last week." This weekly reminder – summoning up my lack of social life, physical activity and overall productivity – used to be stressful but I have long since given up any ambition of a healthy relationship between me and my iPhone. This is me now, a man and his screen.
It's easy to blame the pandemic, but in all honesty this started long before that. Being physically isolated has of course exacerbated my condition, but I've been on a bad track ever since that beautiful/weird looking little piece of technology called "smartphone" was placed in the palm of my hand, instantly becoming a natural part of my very being. It instantly transformed into an artificial umbilical cord, feeding me an endless string of information, and severing it would leave me a digital orphan – starved for updates, lost, scared and confused.
But over the years it's become painfully clear that having all the information in the world at your fingertips in no way
Do yourself a favor: try to catch the birds eye view every once in a while.
gives you the ability to determine what information is right, true and/or good for you. Where 2008 Facebook was a new, fun and harmless way to post party-pics and connect with old high school friends, 2021 Facebook is a cesspool of conspiracy theories, racist uncles, ads and anti-vaxx rallies. Twitter is now basically just a bunch of hobby-epidemiologists accusing each other of mass murder/causing the death of democracy, and Youtube sucks you into a bottomless hole of dirt. Humans have a way of always fucking shit up, in the words of the wise Dr Ian Malcolm (Jeff Goldblum in the 1993 blockbuster Jurassic Park): Nature finds a way.
In 2020, in a world on lock down, developer and Mozilla Creative Media Award-recipient Tomo Kihara updated his Twitter feed with a thread: "Today I launched http://their.tube a Youtube
simulator that provides a look into how videos are recommended for other people with different watch history. You can experience 6 perspectives : conspiracist, fruitarian, liberal, conservative, prepper and a climate denier (1)." Tomo's thread goes on to explain how Youtube's recommendation algorithm accounts for 70% of all views on the platform, effectively funneling users toward more of the same content. If you watch videos expressing far right ideals, you'll mainly get other recommendations on videos expressing far right ideals. "This sometimes can lead people to have radical beliefs and ideas", explains Tomo Kihara.
Over the past few years polarization has become the most common word to describe the political climate, and a lot of the blame seems to fall on the dominant social media platforms. With everyone spending more and more time online and the amount of information available growing exponentially, having effective ways of curating the avalanche of content just makes sense. But when you choose one thing – you inevitably eliminate something else. And with every path taken guiding you further down the hole, there's always
the risk of getting stuck.  So what's the deal here? Is it all just a big coincidence? Is there a sliding doors theme here, where I could have gone full on Incel-QAnon-conspiracy-loon with the click of a button?
On the first episode of the podcast Rabbit Hole, the New York Times tech columnist Kevin Roose meets Caleb Kane, a 26-year-old man living in West Virginia offering an interesting case study on his journey into deep online-radicalization. Through interviews and by downloading Caleb's entire Youtube-history (+12.000 videos), we can follow him step-by-step. From a documentary called "God is in the Neurons", on to self-help gurus like Tony Robbins, podcaster Joe Rogan and right wing troll Alex Jones. But more than anyone, Caleb devours content from historian and philosopher Stephan Molyneux. "If I wasn't at work, any single moment I was watching Youtube. It was probably, at that point, 10-12-14 hours a day." And it is at this point, Gamergate explodes. An online feud between a female video game developer and her ex-boyfriend spewed out into the public forums, with male gamers attacking the perceived threat from PC-culture and social justice warriors trying to change culture. To Caleb, this threat was very real. At the same time his online heroes, like Stephan Molyneux, quickly sharpened his tone. From this, the trip down the Rabbit Hole escalated. The recommendations now guide Caleb to videos by Milo Yiannopoulos (British far right internet troll), Stephen Crowder (Fox-contributor and conservative comedian), leading to Gavin McIness (founder of The Proud Boys) and on and on, down the far right Rabbit Hole we go. Within a couple of years Caleb had gone from a normal college kid to full on Incel.
Caleb is just one example of how shit goes sideways online, but perhaps the screen is both disease and cure. Theirtube lets you experience a similar journey, simulating the algorithm of the "ism" of choice – conspiracist, fruitarian, liberal, conservative, prepper and a climate denier. And no matter where you stand on the scale, this is probably a healthy thing to do. I know out of the 2.000-something hours I spend online every year, I could give a different world view a couple of hours. After all, what's the worst that could happen, right?