It's all about the story
T-POST® #174
At T-post we love a great story, so much so that we've made it a huge part of OUR story – telling the tales of brands being born, overcoming adversities and building a legacy. Nike, Apple, Coca-Cola, Facebook – these are brands that have transcended their role as a product and become an integrated part of our lives. And then there's the brands that crash and burn, leaving an even better story behind.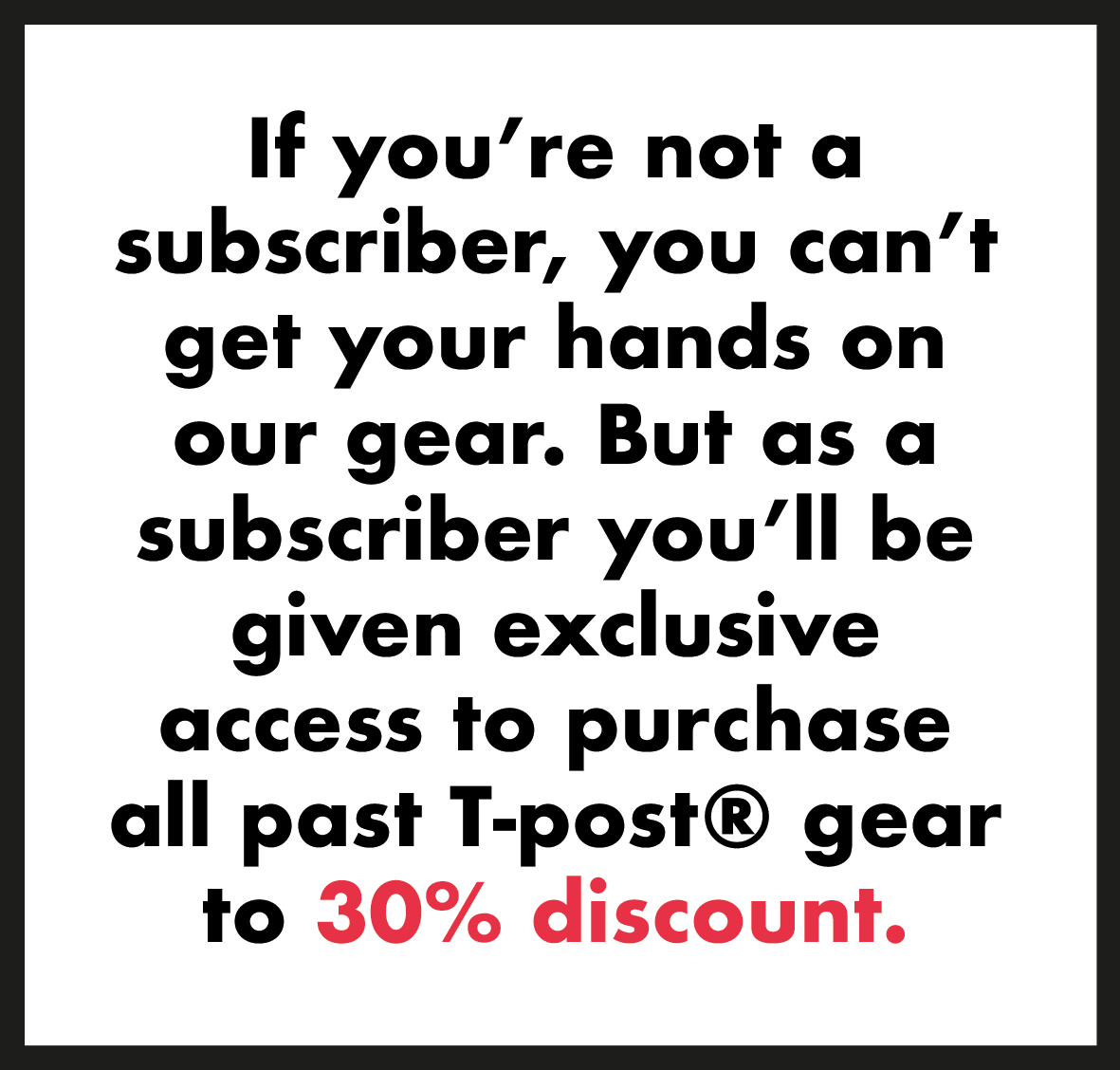 We all know it's all about The Story. The shoes you wear, the smartphone you use, the beer you gulp and where you go on vacation – every consumer choice is made based on The Story the brand tells. But sometimes The Story is so great the brand takes on a life of its own, spiraling out and crashing in a ball of fire, blood and guts, and such is the story of Adam Neumann and WeWork.
The leather biker jacket is shiny and expensive, neon lights bouncing off the cuffs. Adam Neumann has worked up the crowd into a frenzy, his wild black hair flowing as he yells his command: "IF YOU ARE A PART OF THE WE GENERATION – MAKE SOME NOICE!!!"
Thousands of WeWork employees cheer back, and the scene has more the ambience of an unruly The Hives concert than a corporate kick off for a real estate company.
We love a great story - so much so that we've made it a huge part of OUR story
And Neumann had every reason to be pumped. Since the start in 2008, Neumann and WeWork have enticed behemoth-investors like J.P. Morgan Chase& Co, the Goldman Sachs Group and Wellington Management, and by 2018 WeWork managed over four million square meters of office space in Europe, the US, South America and Asia. WeWork was valued at $47 billion, and headed for an IPO, taking the company public.
The business of commercial real estate has always been a lucrative one, but rarely seen as either cool nor particularly innovative. Adam Neumann changed this, creating a whole new world around office space. You were not simply renting a place to put your desk, you were a part of a movement – changing the world for the better.
"In many ways for investors, WeWork was the future of work. It became the poster child for this growing trend of flexible offices, digital nomads – and big investors were suffering from FOMO. They had seen what venture capital firms had reaped on all these startups, and they wanted to get in on the action", says Steve Bertoni, head of the Forbes CEO Network in the documentary 'WeWork: Or The Making and Breaking of a 47 Billion Unicorn'.
WeWork was started in the wake of the 2008 economic crisis, when all these office buildings stood empty around New York, while lots of people were freelancing or starting up new companies. Neumann saw a way to match the two, creating interesting and inspiring spaces with a strong sense of community. Adam Neumann was a far cry from the traditional real estate C.E.O, and the young and charismatic leader drew loads of idealistic startups into WeWorks webb. The numbers of tenants – or "members" as WeWork labeled them – kept growing exponentially, and by 2014 the company was chosen by Fortune Magazine as one of three unicorns to bet on.
In January 2016 WeWork was valued at a staggering $16 billion.
And this is where things really take off. After opening its first space in Bangalore, India in 2017 – hosting 2.200 members – an investment round increased the valuation of the company to $16 billion, WeWork announced it would invest heavily in China. Until now WeWork had relied heavily on renting space, repackaging and sub renting it to companies and freelancers, but at this point they started buying up properties directly. It was, by any obvious means – a success. By 2019 WeWorks was gearing up for an IPO and taking the company public, looking to raise $3.5 billion. But people started asking questions.
The IPO meant filing a lot of papers, giving a new insight into the company's finances. And the reading gave the market pause. For once, Adam Neumann had apparently liquidated $700 million of his WeWork stock before its IPO. In addition to that the company had reported heavy losses, and analysts had a hard time finding any real signs of an ability to become profitable in the future. At this point the company was burning $100 million a week, with nowhere near that much coming in. And while the public image of WeWork was shaking, details around CEO Adam Neumann were coming to light that were creating a lot of doubt. From an estimated value of $47 billion, the company quickly plummeted and the IPO was put on hold. By September 2019 it was announced Adam Neumann would step down as CEO, and a year later the company had fallen 89% since its failed IPO. The company laid off 2.400 employees – almost 20% of its workforce – but don't worry, Adam got out fine with a golden parachute worth $1,7 billion.
The thing is, WeWorks still exists – and it's a pretty impressive company, employing over 6.000 people and housing 490.000 members in offices all over the world. In 2020 their revenues exceeded $1,7 billion. It may never have reached the ambitions of Adam Neumann (who at one point told employees he was going to be the president of the world), but it makes for a pretty great story. And that's good enough for us.