Fan first
T-POST® #181
Sold out!
They say you should never meet your heroes, but why? Being a true fan is a beautiful thing and getting a sit-down with a childhood hero could be a lifelong dream come true. T-post writer Jonas Pekkari takes a closer look at his hero and finds out why meeting him would have been a horrible idea.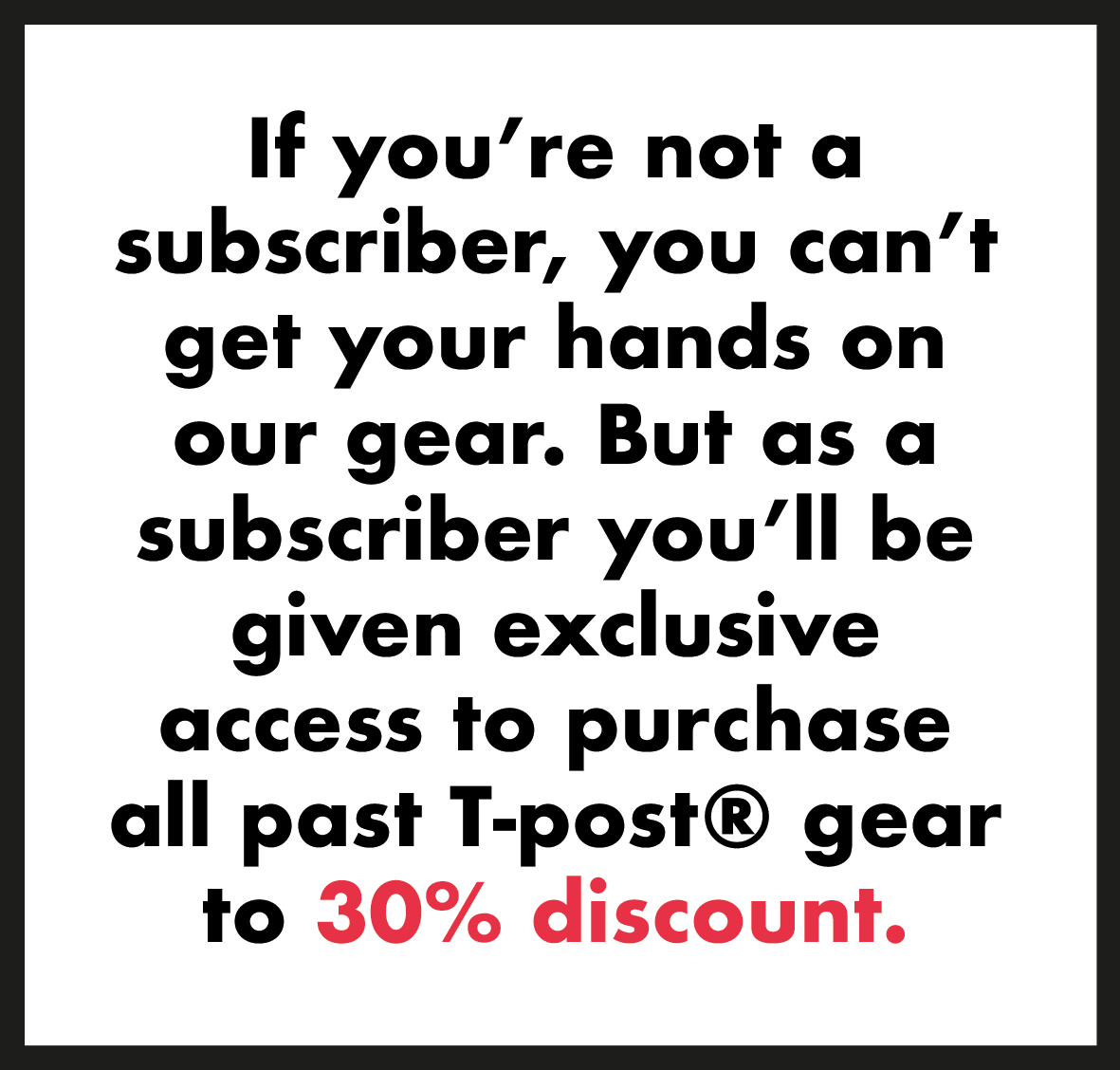 "You should never meet your heroes." Over the years this has become one of those universal sayings passed on through generations. Whether you agree or not It is certainly something to consider as the stakes are high. We'll get to that later.
First: where does the saying come from? Some claim the original was first written in Marcel Proust's 1913 novel "In Search of Lost Time": "Never meet the people you admire – you'll be disappointed". Now this was in French and is not exactly the same, but it's pretty damn close.
Others point out there's a line in Madame Bovary, an 1856 novel set in the Normandie upper class, that goes: "Il ne faut toucher aux idoles: la dorure en reste aux mains". This basically (according to 'the internet') translates
Never meet your heroes. It turns out they're all a bunch of fucking assholes.
to "You should never touch your idols: a little of the gold always rubs off". So apparently even the Kanye West's of the 19th century provincial France had a way of crushing the hearts of die hard-fans.
Through my half-hearted research the very first occurrence of the exact phrase "you should never meet your heroes" in literature and/or lyrics is in a 1984 album by the Ontario band the Tenants which included the song "Don't Meet Your Heroes". Some more tenacious factfinder's prowling the web have
discovered a 1971 article in Advisory's Centre for Education's Where magazine where school founder A.S. Neill is quoted talking about meeting one of his great heroes – H. G.Wells: "But never meet your heroes" (he found Wells in the flesh a brittle man). It seems unlikely that an article in an obscure trade magazine or forgotten single from an 80's alt-pop band would become one of the most we'll known proverbs of the western hemisphere, so let's just agree it probably found another way into modern culture.
Electronic music legend Moby has made a point out of actively avoiding all and any of his lifelong musical heroes. And as a rockstar he is undoubtedly at a considerably higher risk of being exposed to celebrity run-ins than us mere mortals. "I was at a party in Los Angeles a little while ago, and Neil Young was there," Moby reminisces in a 2016 INSIDER
interview. "I'm sure that Neil Young is a very nice man, but I said, 'No, I don't want to meet Neil Young.' Because what if I catch him on a bad day, and what if he's a d--k?" For Moby, a bad encounter with Neil Young might mean he'd "lose 20 of my favorite songs of all time." It just wasn't worth the risk.
Scrolling through cautionary tales of people meeting their heroes I come across some clips of the late Norm MacDonald – comedian and coincidentally one of my heroes – telling stories of meeting some of his childhood heroes. That time he met actor Andy Griffith at an airport only to discover it was not Andy Griffith at all – just an 85-year-old man enjoying the unexpected attention. Norm quickly follows this up with an exciting encounter with country-western legend Willie Nelson where MacDonald cut short by Norm accidently called Norah Jones "Norah Efron", a sit-down with comedy all-star Don Rickles who could not for the life of him remember his lines and the story of NOT meeting Johnny Carson (even though he had the chance.) Norm goes on to tell the tale of him also NOT meeting his greatest hero Paul Newman and about the time he did meet Bob Dylan after a show in LA and when he as a kid met the broadcaster, Howard Cosell.
As I continue to scan the web for stories on why you should never meet your heroes I come across an actual bullet list; "12 Reasons You Should Never Meet Your Heroes." It's a depressing read, just to name a few points: You won't make an impression, you'll embarrass yourself, they'll be mean to you, he'll seem surprisingly average, and he'll have a wallet chain (whut!?).
But then Norm MacDonald sums it up nicely for us in an outtake from his memoir "Based on a True Story": "It's true what they say. Never meet your heroes. It turns out they're all a bunch of fucking assholes. They're probably the reason you turned into such a fucking asshole – because they were your heroes, and you spent all your time trying to be like them."
Yeah, I'm gonna take Norms word for it. After all, he's really a hero of mine.