Fake or Bootleg?
T-POST® #169
The fashion industry has finally gone full circle. Luxury brands are showing bootleg design based on bootleg design based on their own originals. Feeling confused? Don't read the rest of this article, it's about to get worse.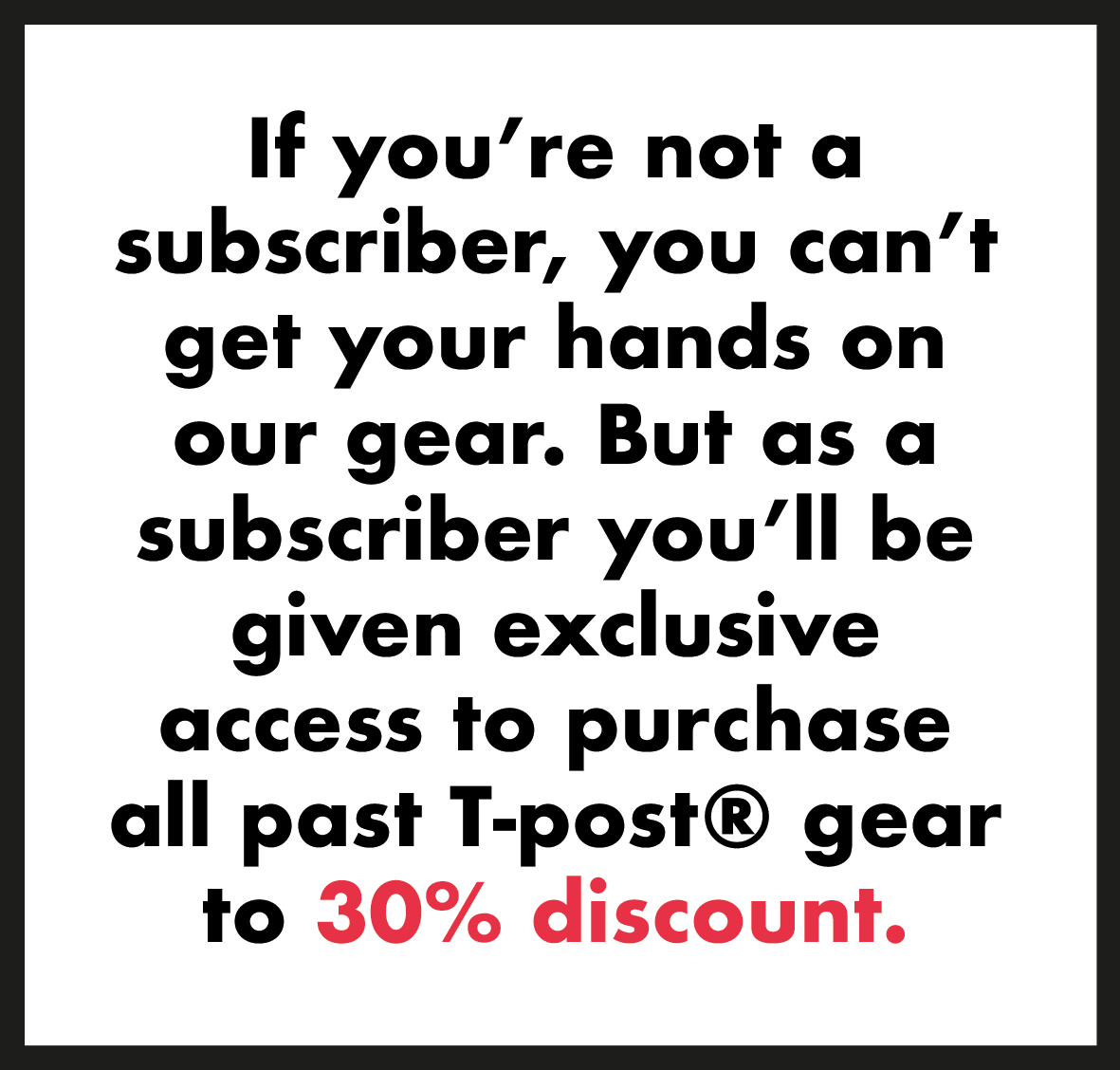 In the late 1980's, an exciting new trend made its way from sunny California, through southern Europe, Great Britain and even reached the virtually isolated northern parts of Sweden. A middle-school classmate had, with great risk to life and limb, stolen a magazine from his older brother, and we all gathered around the exotic cover with the same forbidden sense of reverence and trepidation as if it was a porno-mag. It was, however, a copy of Thrasher Magazine. Even though there still would be a few years until editor Jake Phelps would bring his punk-skater esthetics to the magazine, to a bunch of nine-year-olds in Umeå the bare-chested and tanned guys in cut-off jeans and home made tattoos riding skateboards in drained swimming pools was the epiphany of cool.
As the supply of skate-wear (as with any type of fashion) in 1989 northern Sweden was scarce, we were forced to get creative. The skateboard-brands depicted in skateboard-magazines were
The fashion industry has finally gone full circle
all pretty simple graphics, designed to appeal to youth and express energy, edge and a do-it-yourself punk-mentality. Powell Peralta, Stüssy, Independent, Santa Cruz – we copied them all by sketching the logos on plain white tees with a simple black marker. Within a couple of weeks the whole crew sported the latest skateboard-fashion with twisted and weird versions of every skate-brand we could find. By the age of nine we were – unknowingly – fashion bootleggers.
The business of fake and counterfeit goods has become a global billion-dollar-industry.
Since 1982 the global trade in counterfeit goods has reportedly increased from $5.5 billion to about $600 billion annually in 2016, and by 2021 estimations put the number at around $1.2 trillion. Louis Vuitton – the most valuable luxury brand in the world, with a brand value of about 75.7 billion U.S. dollars in 2021 – spends $15 million every year processing counterfeit matters, with one landmark case resulting in the Commercial Court of Paris ordering eBay to pay $38.1million in damages to LVMH, saying eBay had done too little to stop the sale of counterfeit goods over the platform.
So let's establish just what a fake is. To put it simply: a counterfeit copies an original design and authentic product already on the market in the ambition of passing it off as real. This is usually done with instantly recognizable brands and logos such as
Louis Vuitton, Nike, Supreme and Dior. Bootlegs, however, have no intention of marketing itself as the real thing, but rather to interpret the brand spirit and create an alternative identity. The bootleg has become a respected part of the fashion industry, with style-icons like Dapper Dan creating bootleg Louis Vuitton and Gucci garments for the 1980's and 90's New York hip hop-elite. And here's where it gets complicated.
In 2018, just weeks before New York Fashion Week, the Italian brand Diesel launched its own "fake brand store" in an area of Manhattan known for cheap fake's. The shabby shop sold thousands of "knock-off" t-shirts, hats and jeans with the (misspelled) name Deisel printed on them. The "Go With the Flow"-campaign, orchestrated by Publicis New York, was widely acknowledged as engenius and put the brand back on the fashion scene after years in the dark. The "authentic fakes" were instantly coveted by fashionistas all over the world, and made headlines in both fashion magazines and news outlets.
But Diesel were not the only one's embracing fake- and bootleg culture. Alessandro Michele showed Fake Gucci T-shirts loudly emblazoned with the label's logo for Resort 2017, a design based on counterfeits that were popular on the streets during the '80s. The brand's Resort 2018 collection continued with the theme of bootleg culture: A coat with Gucci-monogrammed sleeves became the meme heard round the Internet after it drew comparisons to a similar topper by formerly mentioned Harlem-based designer Dapper Dan.
So we've gone full circle. At this point in fashion history, luxury brands are making bootleg designs of bootleg designs based on their original design. Fake is real, counterfeit is cool and bootleg inspires the original. Now I'm just waiting for my hand drawn Stüssy-tee's from 1989 to show up on the brand's F/W 2022 runway show. I always felt it deserved a larger audience.