Because I Said So
T-POST® #120
When we're hit with thousands of images and pieces of information every day on how we should live our lives, and why our life is not as good as the other fellas, it's hard not to get affected. Instead of living the life that makes us happy, it's really easy to start living a life we think is "expected" of us. Making up our own goddamn mind has sadly never been harder.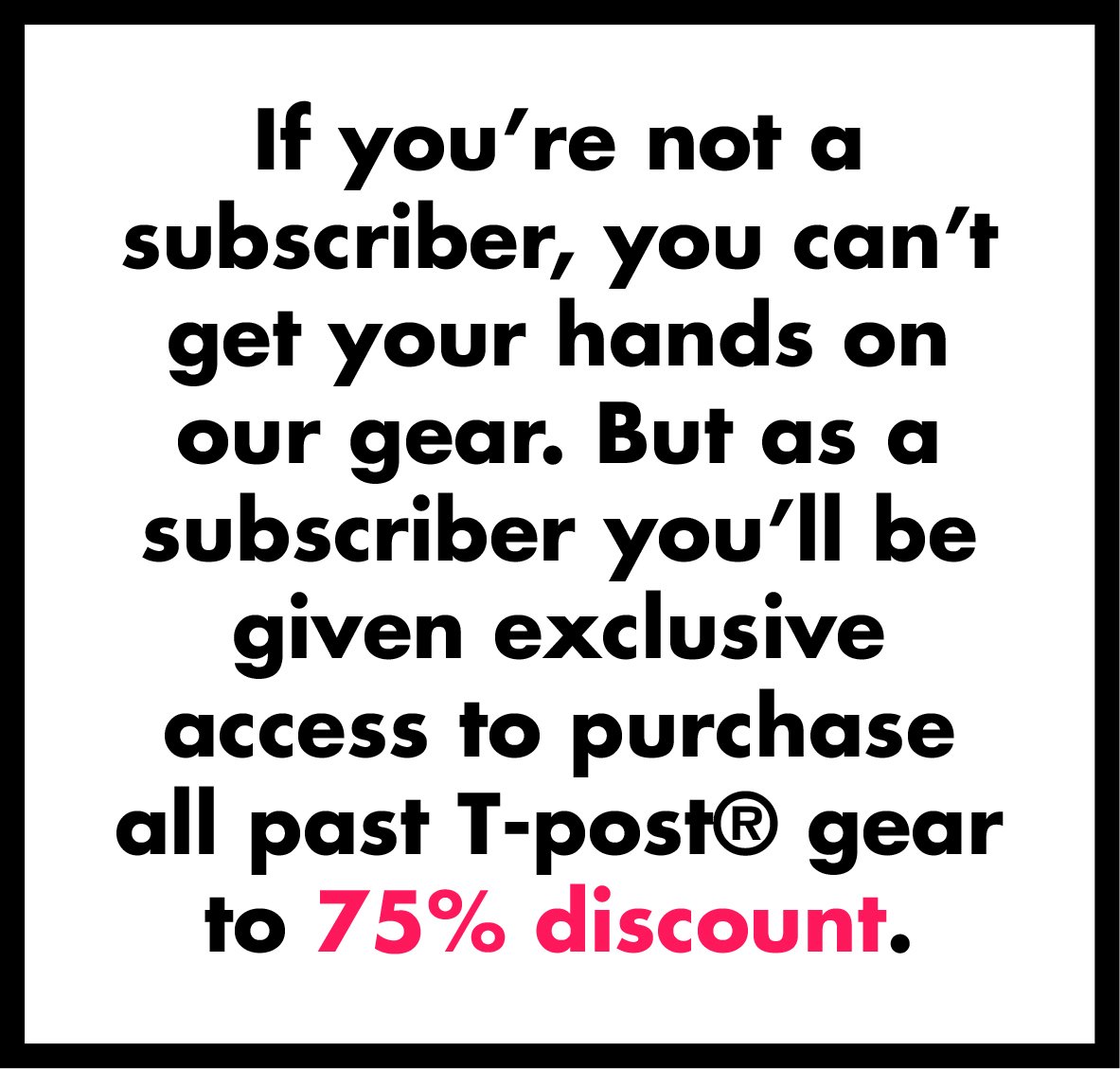 In April 2013, Charlie Sheen appeared on Conan O'Brien's talk show and said that in 2011 he "had laughed so hard while watching a Chappelle's Show episode that he experienced a ruptured hernia and was rushed to the hospital", the event leading to a conflict between Sheen and the production company of the hit series Two and A Half Men, and ultimately resulting in a discontinued contract and dragged out litigation. If this really was the reason Sheen was fired may be up for debate, but I totally get it. Even though I've never actually lost my job or have had to seek medical attention for trauma caused by comedian Dave Chappelle, the long-term consequences for my three-year-old daughters mental health is still to be determined.
More than a decade after Chappelle walked off the set of his own show – and away from a 50 million dollar contract – his sketches still makes me roar with laughter. It´s a rare thing these
Making up our own goddamn mind has sadly never been harder
days, me ROARING with laughter. So rare in fact, that the sudden burst of uncontrollable sound coming from her father scared my young daughter senseless, leaving her sobbing and trembling in the corner of the room. I of course tried to explain the perfect timing, the impeccable sense of pinpointing and ridiculing racial stereotypes and the sheer genius of the Chappelle's Show, but she was inconsolable – thoroughly traumatized. Still, it´s a price I'm willing to pay. It's just that good.
After many years as a stand up comedian and supporting actor in movies like Robin Hood: Men in Tights, Con Air and The Nutty Professor, Dave Chappelle alone with long time friend Neil Brennan created the weekly sketch comedy show on
Comedy Central called Chappelle's show. It was an instant success. Taking shots at racism, pop culture and current politics, the show quickly gained an audience around the world, and two seasons in – the dvd:s were selling at record numbers and the studio was euphoric. A 55-millon dollar contract was offered for two more seasons, and Dave Chappelle had all his dreams fulfilled. Or did he? As the success of the show kept growing, so were the internal conflicts on and off set.
At a 2004 stand up-gig in Sacramento California, Dave Chappelle aired his frustration. He'd already walked off stage after berating the crowd for repeatedly yelling "I'm Rick James, bitch" (a catchphrase from his popular Rick James sketch) during his performance. After returning to the stage a few minutes later, Chappelle complained about the show "ruining his life" and reportedly said: "You know why my show is good? Because the network officials say you're not smart enough to get what I'm doing, and every day I fight for you. I tell them
how smart you are. Turns out, I was wrong. You people are stupid." In the middle of shooting season three of Chappelle´s Show, the comedian walked off set, jumped on a plane to South Africa and flew out of the public eye. Tabloids speculated whether the exit was due to a mental breakdown, drug use, or a combination of the two. Chappelle refused to talk to the media and stayed off the grid.
In a rare 2014 in-depth interview with GQ Magazine, Chappelle talks about his relationship to fame. "Some people have great experiences in show business. We'll say, for lack of a better term, I had an allergic reaction to some of the things that I was going through. It's something that dehumanizes a person, being on display like that. It's like someone putting their ear to your butt and being like, "Ew, you farted!". Stop listening to my asshole!"
Many stand up comedians hold Dave Chappelle as one of the top performers in the business. He´s gained respect from his childhood heroes, among them Eddie Murphy, Robbie Williams and Richard Pryor, and had the fame, the money and the success. So what made the comedian, at the very top of his game, give it all up to move to a farm in Little Springs Ohio? In one of his appearances on Inside the Actors Studio, Chappelle sums it up like this: "I would go to work on the show and I felt awful every day, that's not the way it was. I felt like some kind of prostitute or something. If I feel so bad, why keep on showing up to this place? The hardest thing to do is to be true to yourself, especially when everybody is watching."
In the fall of 2015, Dave Chappelle went on a mid sized stand up-tour. When GQ Magazine asked him his plans for the future, the comedian was pretty casual about it. "I just like seeing people, man. I just like meeting people. I like finding out new walks of life and new ideas. Sometimes I just like not doing shit and not being shit. Like, it doesn't all have to be so serious with me. I can revert back to my adolescence in an instant. I get on those video games." I guess we could all learn a thing or two from Dave Chappelle.
Words: Jonas Pekkari
Design: Marc Srömberg
Model: Tor Troeng
[1,86 cm tall, wearing mens L]