Bacdafucup
T-POST® #159
Pandemic or no pandemic: sometimes you need to just chill out, calm down and tell everyone to – in the wise words of 1993 rap-sensation Onyx – bacdafucup. The self-isolation in the wake of COVID19 may present a welcome break from the stress of everyday life, but what happens when we get too comfortable with the social distancing? You go full hikikomori, that's what.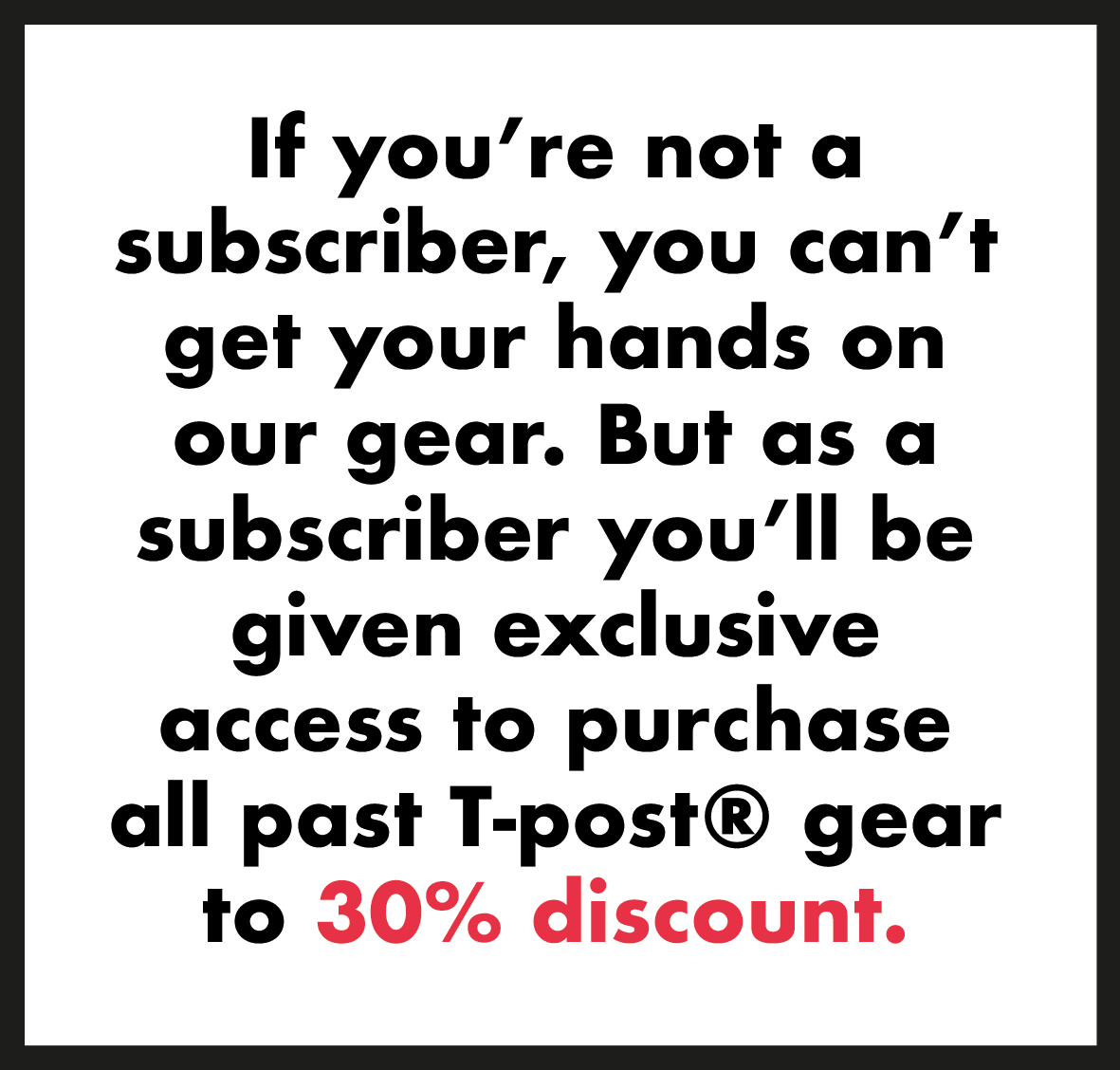 "I really don't know what happened, I just sort of shut down. It had been a crazy year in the studio, touring and whatnot. I was loving every minute of it but something just snapped. I know it was all in my head, but I was physically paralyzed – there were times I couldn't even lift my hands. I just looked at them, and it was as if they weren't even mine", a friend tells me. He is a successful music producer, but for the past six months he has isolated himself indoors, gradually going out for short walks, eventually graduating to tranquil road trips with friends. "I'm not sure it had anything to do with COVID19, although I did get pretty sick. But I guess the timing was just right for a mental breakdown, since the entire world was having one as the virus hit – I really didn't miss much", he adds and laughs.
I've had a similar experience myself, and although it's been almost a decade,
I can still recall the numbing panic that comes along with losing control of your very thought process. As the newly appointed editor-in-chief of a weekly magazine I worked crazy hours, getting in at 06.00 in the morning, hurrying home for dinner to spend a couple of hours with my new-born kid, only to head back to the office for another six hours of work. I was burning the candle at both ends, and loving every minute of it. About a year in, I caught the flu, and was finally forced to stay put at home for a few days. Left alone in the dark stillness of my small bedroom, my mind quickly melted. It was some freaky shit, we're talking full-on-hallucinations, night-terror, paranoia and insomnia. I'd doze off for a few minutes and wake up rambling incoherently, or suddenly start freaking out about someone watching me in the darkness. By day three I had come to terms with the fact this was my life now, I'd become one of those patchy-bearded neighborhood-weirdos walking around with a pet-rat named Pete on their shoulder, talking about how "The Government is watching us".
---
BACDAFUCUP
The 1993 groundbreaking debut album of rap-group Onyx titled BACKDAFUCUP was produced by the late rap-legend Jam Master J, sold platinum and won "Best Rap Album" at the 1994 Soul Train Music Awards. It is credited with bringing "slamdancing" or "moshing" into the hip hop scene, and set the trend of the "bald head fashion". For this we salute you.
---
As it turns out, my therapist later patiently explained, there was an actual limit to how much long-term stress one can subject yourself to without burning out. I'd come very close to the edge, and it didn't take more than a common cold to make me snap. Thankfully I bounced back, and learned that sometimes it's good to just chill the fuck out, calm the fuck down and – in the words of 1993 rap-sensation Onyx – tell everyone to bacdafucup. That said, some people take their alone-time a bit too far.
Self-isolation may have become the norm in the COVID19-era, but in Japan young adults have been on voluntary lockdown since way before someone decided to take a bite out of an uncooked bat. These modern day hermits have become so common they've even got a word for it: hikikomori – acute social withdrawal. To fulfil the general definition of hikikomori you need to have chosen self-isolation and not taken part of society for six months. According to government figures, somewhere in the ballpark of 1,1 million individuals are living as hikikomori in Japan, with some of these – now in their 40's, – having done so for 20 years. These are called "first generation hikikomoris". The phenomenon first appeared in the 1980's, but quickly gained momentum in the wake of the economic crash of the early 90's.
"I would leave my room only to eat the food my mother served, but I rarely spoke a word to her or anyone else who happened to be in the house", says Masayuki Kato, who spent 13 years in hikikomori. In an interview with Swedish magazine Café Kato talks about more than a decade of near complete self-isolation, and his life now working with an organization trying to help other hikikomori break free. Just like Kato, most hikikomori are supported by their parents, but concerns are now growing with the Japanese authorities on how to deal with "first generation hikikomoris", as their parents are often in their 80's, and soon will pass away. "Adult hikikomori age 40–65 is a new social issue", says Japan's welfare minister Takumi Nemoto – who is tasked with the unwelcome challenge of figuring out what to do with the rising numbers of senior stay-at-home orphans.
Well, there's a chance we'll have plenty to study all over the world, as the pandemic forces more and more of us into seclusion. What if the post-modern hermit-lifestyle is as contagious as a coronavirus? Let's not find out. We'll just agree to chill the fuck out and bacdafucup, but not get too comfortable and go full hikikomori, ok?